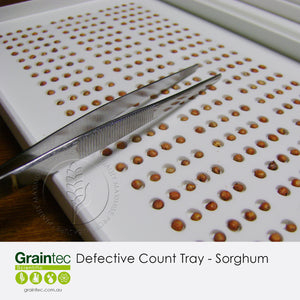 Description
Download
Enquire Now
Description
The 300 Count Sorghum Tray is an important tool to use when following grain standards for sorghum.
The tray is used when analysing for defective grains.
The tray has 300 grain slots (specific for sorghum) and comes with a pair of tweezers to enable the user to easily scan the tray for particular defects as stated by the receival standards.
The tray has a spouted end to make disposal of grain back into a sample bucket/tray with ease.
---
* Product price and shipping rates exclude GST.
Download
Enquire Now