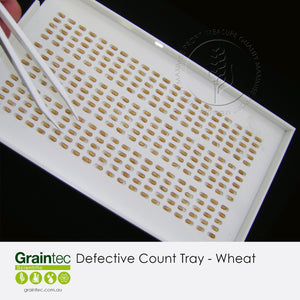 Description
Download
Enquire Now
Description
Our 300 Count Wheat Tray is an essential tool for identifying defective grains when following GTA standards for wheat.
The tray has separate top and bottom components and comes with a pair of tweezers.
The bottom tray is used to easily count 300 grains by filling the 300 empty slots, the top tray is then used to assess and separate the defective grains.  
Both trays are manufactured from lightweight and durable aluminium with a gloss white powder coat finish, providing the ideal background for defect identification to Grain Trade Australia receival standards.
---
* Product price and shipping rates exclude GST.
Download
Enquire Now