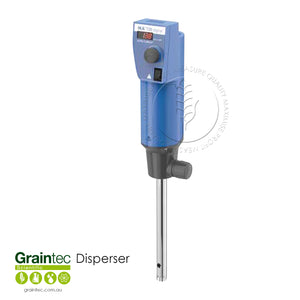 Description
Features
Specifications
Downloads
Enquire Now
Description
ULTRA-TURRAX ® - the epitome of first-rate dispersing devices enable the best possible results whether used for homogenisation, emulsification or suspensions.
The IKA ® range of dispersers are used for volumes ranging from 0.5 to 50,000 ml (H 2 O) and come equipped with a digital display. These dispersers offer a wide speed range up to 30,000 rpm that enables users to work at high circumferential speeds even with small rotor diameters. The high-performance drive ensures immense speed stability. Due to their broad spectrum of dispersing tools, IKA ® dispersers are highly effective for a variety of uses.
A broad choice of dispersing elements adds versatility. Applications ranges from homogenizing wastewater samples, use in laboratory reactors, dispersion tasks under vacuum / pressure and sample preparation in medical research.
Features
Digital speed display
Electronic speed control
Electronic overload protection
Stainless steel dispersing elements can be cleaned quickly and easily
Plastic disposable dispersing elements are available in two sizes
Error code display
Quiet operation
Specifications
Technical Data
| | |
| --- | --- |
| Motor rating input | 800 W |
| Motor rating output | 500 W |
| Volume range (H2O) | 0.001 - 2 l |
| Viscosity max | 5000 mPas |
| Speed range | 3000 - 25000 rpm |
| Speed deviation | 1 % |
| Speed control | stepless |
| Speed display | LED |
| Noise without element | 75 dB(A) |
| Extension arm diameter | 13 mm |
| Extension arm length | 160 mm |
| Process type | batch |
| Permissible ON time | 100 % |
| Dimensions (W x H x D) | 87 x 271 x 106 mm |
| Weight | 2.5 kg |
| Permissible ambient temperature | 5 - 40 °C |
| Permissible relative humidity | 80 % |
| Protection class according to DIN EN 60529 | IP 20 |
| Voltage | 220 - 240 / 100 - 120 V |
| Frequency | 80 % |
| Permissible relative humidity | 50/60 Hz |
| Power input | 800 W |
Enquire Now