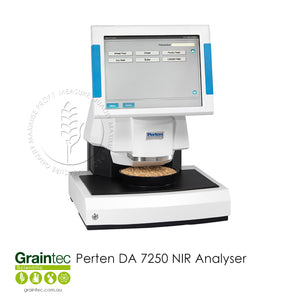 Description
Features
Specifications
Video
Brochure
Enquire Now
Description
The new DA 7250 NIR analyser is designed specifically for analysis in the food and agri industries. Grains, powders, pellets, pastes, slurries and liquids – nearly any type of sample – can be analysed on the DA 7250.
Features
Accuracy
Speed - 6 second analysis
Ease of use
Rugged - IP65 certified design
Pre-calibrated
Parameters include moisture, protein, fat and many others
Robust and reproducible
Diode array technology creates an instrument with no moving optical components. This improves accuracy and stability, and means that hardware can be standardised, minimising instrument differences.
Fast and accurate spectra
The DA 7250 uses a sensor with excellent signal/noise ratio and sensitivity. In combination with the outstanding energy throughput, the DA 7250 collects many spectra per second, as the sample moves. The speed allows the instrument to automatically standardise the wavelength and absorbance scales on every single analysis. This improves accuracy, corrects for changes in ambient conditions and alerts users to potential problems.
Connectivity
The software platform is designed for optimal connectivity and data is readily exchanged with other programs.
Specifications
Analysis time: 6 seconds
Sample types: Grains, Pellets, Powders, Pastes, Slurries, Liquids and more
Sample area analyzed: Up to 108 cm2
Sample volume: Flexible 1-400 ml, depending on sample type
Display: 12" color touch screen
Language: Multiple languages included. English, Chinese, Thai, Russian and many more
Interfaces: USB and Ethernet
Operating temperature range: 5 to 40°C
Ingress Protection per IEC60529: IP65 certified
Wavelength Range: 950-1650 nm
Detector: Indium Gallium Arsenide (InGaAs)
Wavelength Accuracy: < +/-0.05 nm
Power requirements: 115 or 230 V, 50 or 60 Hz (specify by order)
Dimensions ( HxWxD ): 517 x 370 x 390
Net Weight: 20 kg
Video
Brochure
Enquire Now