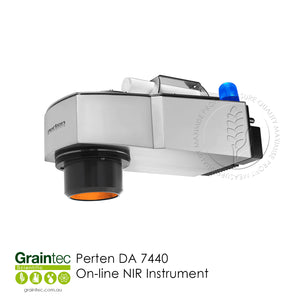 Description
Features
Download
Enquire Now
Description
The Perten DA 7440 is a versatile NIR sensor, designed to provide real-time measurements to support quality monitoring and process control.
It's widely used in various food and agricultural processing applications and is used to monitor incoming ingredients and raw materials, optimize production processes and verify finished product quality. It's typically installed over conveyor belts but its flexibility allows for other options as well.
Testing has never been more crucial to the food industry, and this instrument is a time-saving, adaptable means for doing it.
Parameters
Products
Snack foods
Other food products, such as potatoes and pasta
Tobacco
Features
The DA 7440 provides continuous measurement for automatic or manual process control, and to optimise moisture and fat content in a broad range of foods.
It provides results in real time, using web-based software and wireless communication. Its connectivity is industry standard, enabling it to integrate with existing systems.
The instrument is pre-calibrated for a wide range of snack foods.
It has easy to use touchscreen controls and display, and is designed to be durable with minimum maintenance.
Its high-speed diode technology allows users to track process changes accurately, and with its full-spectrum calibrations, it requires hardly any adjustment when substituting products or starting up.
Download
Enquire Now