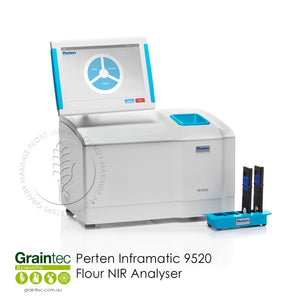 Description
Features
Download
Enquire Now
Description
The Perten IM9520 Flour Analyser is a durable and highly practical NIR instrument, providing the perfect solution for both laboratory and at-line analysis of flour and semolina in under 30 seconds.
Routine, bench-top analysis is essential for ensuring flour quality in all baked products.
The Perten IM9520 is highly effective in providing flour and semolina analysis at mills and bakeries, to meet quality standards for consumers and to monitor and adjust production processes where necessary.
Parameters

Moisture
Protein
Ash
Wet gluten
Zeleny
Colour L & B
More calibrations on request
Products

Wheat flour
Rye flour
Semolina
 Applications

Flour Milling
Baking
Pasta/Noodles
Features
Reliability
The robust construction of Inframatic 9520 with sealed module construction of standardized components guarantees long term reliability.
Ready-to-use calibrations
The Inframatic 9520 is delivered with ready-to-use global calibrations. They include a wide variety of flour types. The Inframatic 95 series share the same calibration database and data has been collected over many years.
Remote instrument management
The Inframatic 9520 can easily be managed remotely by using the PerkinElmer cloud solution NetPlus. It is possible to access the instrument from anywhere just by logging in to the website. This means production managers can verify that the milling process is within targets and limits. Quality managers can follow up on deliveries to verify compliance with specifications.
Ease of use
The large color touch screen with its intuitive menus makes it easy both to operate the instrument and read analysis results. We have designed the user interface to make analysis as rapid and secure as possible. With the Perten designed loading station, the cuvette is easily packed before analysis and it makes the procedure operator independent.
Download
Enquire Now