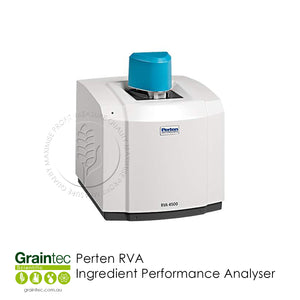 Description
Features
Downloads
Enquire Now
Description
The Perten Rapid Visco Analyser (RVA) models are cooking, stirring viscometers with variable shear capability and programmable temperature ranges from -10°C up to 140°C. Developed for testing a wide range of rheological properties in grain, flour, starch, hydrocolloids, gelling systems and foods. They can be used to characterise viscosity development or degradation and ingredient functionality within the finished product and to optimise formulation control.
Parameters

Viscosity Development (time/temperature dependent)
Viscosity Degradation (time/enzyme dependent)
Starch pasting curves
Ratio of raw / cooked starch within food 
Products/ Applications

Starch
Cereal Grains
Flour Milling & Baking
Starch
Hydrocolloids Gums
Extruded & Cooked Foods
Dairy
Brewing
Protein
Enzymes 
Features
Temperature and stirring speed can be programmed to follow international standard methods
Combines speed, precision, flexibility and automation
Unique tool for research, product development, process monitoring, QC/QA to optimise ingredient use, product formulation and processing conditions
Sensitivity and accuracy when analysing low viscosity samples and wide dynamic range when analysing high viscosity samples.
Downloads
Enquire Now